Groupe Casino is a French retailer conglomerate with more than 9,500 stores around the world and worth around $7,000 million. Since the 90's, Casino has been expanding worldwide thanks to an easy formula: entering markets with sales potential by acquiring one of the retail leading retailbrands, and then studying business alternatives to continue strengthening its operations. Groupe Casino's portfolio comprises of dozens of private labels covering a board range of brands across: apparel, family, organic, fair trade, discount. Most of them are very well known by the public: Spar, Monoprix, Franprix, Leader Price, Vival, Extra, Exito, Libertad…
The owner of the group is the 69-year-old French businessman Jean-Charles Naouri. Naouri was born in Algeria in 1949 while his mother, an English teacher, had been stationed there. During the Algerian War of Independence war in 1956 the family moved back to Paris. In spite of the difficult transition, Naouri managed to win Greek and Latin national prizes andto graduated from high school at the age of 15. He then attended one of the most prestigious schools in the country, the École Normale Superieure, and he went to the US to complete his education in Harvard. After that, he returned to France to pursue his PhD in Mathematics and to study Administration.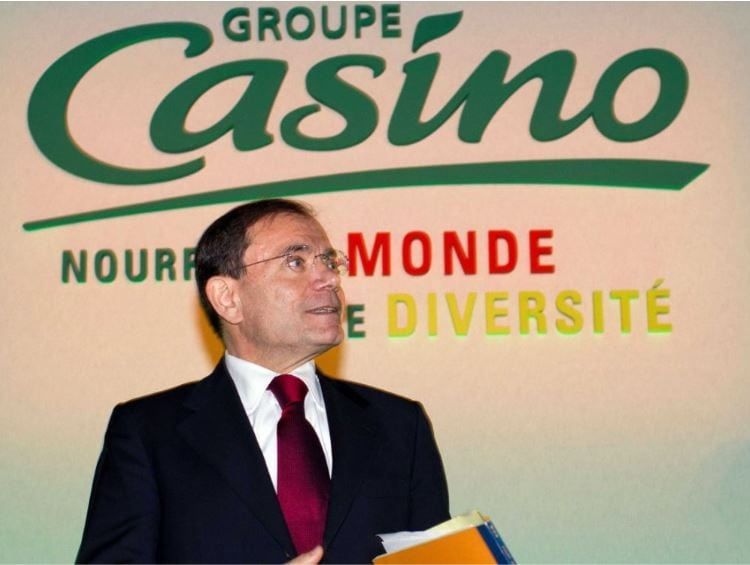 After graduating, he began his career as a financial auditor for the French Treasury. Between 1982-1986 he was appointed Chief of Staff to the Ministry of Economy, Finance and Budget, where he actively took part in the deregulation of the financial markets. In 1987 he started working at Rothschild & Co at the same time he also started his own fund: Euris, which would gradually made investments in the industry. Thanks to this, he was able to acquire the Breton-based retailer Rallye in 1991, which he brilliantly merged with the Casino Group a year later. Allowing him to consolidate these important retail assets.
Naouri became the biggest sharesholder of the company in 1998 and only a few years later, in 2005 was appointedalso Chairman and CEO. Using his experience in the financial sector and with the advice and support of Rothschild & Co and several other investment funds to Naouri launched an expansion project. South America and Southeast Asia were the mainstays of the expansion and Colombia the would spearhead the project. Then he entered in Venezuela in 2010, Uruguay in 2011 and he acquired 50% of the Companhia Brasileira de Distribuicao (GPA), Brazil's largest retailer in food, furniture and household appliances, with more than 2,100 stores and 160,000 employees in 2015. Shortly after that, he also acquired Libertad, the Argentine food retailer.
His modus operandi has been the re-sale of unprofitable activities and strengthening the Groupe Casino's presence in developing countries, trying to secure customers in the prosperous middle class. Using this strategy, Casino Group became the main food distributor in Latin America (especially successful in Colombia and Brazil). It has an with annual remuneration of $480,000$, but with annual revenues of more than USD 1.3 million through its other investments.
Groupe Casino's 2018 objective is to keep growing through its various brands. For example, Franprix opened 50 stores in 2017, and it is expected to open some more in 2018. Naturalia aims to increase the sale points from 168 (2017 figure) to 200 by the end of the year. There are also some stores being tested in nearby European countries like Belgium. Jean Charles Naouri stated that the group "has potential for expansion", with brands like Spar, Franprix or Leader Price, which could be rolled out in new countries. Moreover, Groupe Casino has entered into exclusive talks with Auchan to build, in compliance with competition rules, a global strategic partnership enabling them to jointly negotiate their purchases in France and abroad with their main multi-national food and non-food suppliers in order to value the interests of all stakeholders: consumers, farmers and manufacturers alike.
The expansion is not only geographical, but also technological. Their Monoprix brand will become the first French retailer to sell groceries through Amazon. A dedicated virtual store will make Monoprix goods available via the Amazon Prime Now App or website. This service will be only available in Paris at first, but in future could extend beyond the capital. This "Prime" partnership enables Groupe Casino to provide a one-hour urban e-commerce delivery service offering, allowing Amazon gets a route into one of their relatively underpenetrated markets.