President Supervillain - Trump's Words Mouthed By Comic Villains Is Genius
Our new favourite Twitter account is President Supervillain!
Comic writer and editor D.M. Higgins has used President Trump's own words to great comic effect by sticking them in the speech bubbles of classic sinister comic supervillians.
And within just a fortnight the Twitter account has amassed a cosmic 29.7K followers!
It's pretty sinister how easily The Donald's words transfer into comic book villains' mouths – whether demented rants at press conferences and rallies:
or malevolent policy threats that have slipped out in interviews – such as the former reality TV show star's infamous enthusiasm for waterboarding and torture:
D.M Higgins is far from the first person to seize on the comic potential of The Donald's demented speech.
The wags at The Daily Show seizing on the emotional immaturity of Trump's Twitter tantrums and vendettas created a genius Chrome or Firefox browser extension that renders them into a font they make more sense in –

– an eight-year-old's scribbled handwriting – download it at  maketrumptweetseightagain.com.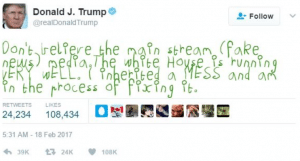 And according to Drunk POTUS, "the things that come out of Donald Trump's mouth only seem normal if you pretend he's a drunk ranting in a dive bar in the wee hours of the morning." – So the Youtuber has slowed the President's words down and the results are uncanny:
And of course Peter Serafinowicz's Sassy Trump – with Donald Trump's words as uttered – only voiced "0.001% more catty" –
If you come across any other great uses for the President Of The United States, please don't hesitate to let us know on Twitter or in the comments below!