Labour reveal damning Tory catalogue of child health failures & cancelled NHS children's operations
The Labour Party are set to reveal that over 12,000 surgical procedures on children and young people have been cancelled in the last year alone.
The Labour Party is to announce its intention to make child health "a national priority", highlighting a series of failings from cancelled operations to staff shortages on children's wards under the Conservative Government.
Speaking to the Royal College of Paediatrics and Child Health, Shadow Health Secretary Jonathan Ashworth will today (Monday) accuse the Government of failing children's health across the board, from obesity and immunisation to mental health.
The Leicester South Labour MP will use the speech at 11.30am today to reveal evidence complied by the Labour Party showing failures in workforce planning and patient care based on Freedom of Information responses and commissioned research from the House of Commons library.
The research has exposed a shameful catalogue of failures in child health under the Tories.
Over 12,000 surgical procedures on children and young people were cancelled last year alone, an increase of 35 per cent in three years. These cancelled operations include procedures for broken bones and treatments under anaesthetic.
One in five paediatric trainee positions are currently vacant even though trainees themselves report high levels of enthusiasm for the speciality.
The non-medical child health workforce keeps falling, with 10% of school nurses, 11% of health visitors and 12% of district nurses lost in the past two years.
At the same time, the number of young people presenting at A&E with mental health problems is up 33% over three years.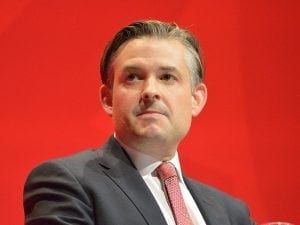 Labour's Shadow Health Secretary will warn: "The shameful picture of child health in England is terrifyingly real and should be receiving urgent attention from all who are concerned about the future health and well-being of our country.
"We can point to nearly any element of children's health, from immunisation, to child and adolescent mental health, to childhood injury and childhood obesity. In all those areas we find examples of good practice but the overall picture reflects social inequality and failure, sometimes on a massive scale."
Jonathan Ashworth will caution that the UK is falling behind on childhood obesity, neglecting children's and adolescents' mental health and that immunisation rates in England are worse than Scotland and Wales.
He will say: "Immunisation rates are falling and, in some cases, have been on a downwards slide for each of the last three years. Children in England are not being protected as well as children in the rest of the UK. In its official report on immunisation, National Statistics revealed that vaccination coverage in England at 1, 2 and 5 years of age was, for all reported vaccinations, below that of the other UK countries.
"The UK spends about £6 billion a year on the medical costs of obesity, and a further £10 billion on diabetes, but less than £638 million a year on obesity prevention programmes. Unless we act we are building up future pressures on the NHS.
"Supporting our young people's mental health is crucial yet just 11 per cent of children's mental health needs are met by the NHS. Cuts in one part of the system lead to pressures elsewhere in the NHS and I'm publishing our new analysis from the House of Commons Library that shows the number of young people presenting at A&E with mental health problems has risen 33% over three years."
The Labour MP will conclude by announcing the establishment of Labour's Child Health Forum to work with experts and patients to work with the Labour Party on its child health strategy.
"The Conservative Government is squeezing our NHS and taking money from our public health system and our schools.
"In the absence of Government leadership and action on child health, Labour will, over the next 12 months, convene a series of workshops which will draw together the evidence and expertise in the field of child health.
"Labour will make child health a national priority and one which brings together all of the academic, medical and economic expertise that we have in this country, to design and implement a programme that ensures that we can point to our record on the health of our children with pride rather than dismay."
Based on Freedom of Information data collected by the Labour Shadow Health Team: The total number of cancelled children's operations in the period 2013/14 to 2017/18 was 46,211, based on responses from 79 Trusts.
In 2016/17, 76 Trusts recorded 12,349 cancellations, 35.3% higher than in 2013/14 when 9,128 cancellations were recorded.
The bulk of reasons for cancelling operations were a lack of staff, e.g. anaesthetist, surgeon, consultant or theatre staff unavailable, bed shortages, equipment failure/unavailable, administrative error and a lack of theatre time.
There is a large variation in the total number of cancelled children's operations across the nine regions of England in the period 2013/14 to 2017/18:
Total number of cancelled children's ops ranked by region:
1 London 12,904
2 South East 8,840
3 Eastern 7,129
4 North West 4,602
5 East Midlands 3,630
6 West Midlands 3,366
7 South West 3,360
8 Yorkshire 1,892
9 North East 488
Since you're here …
It may worry you that much of our mainstream press is increasingly reporting with a strong right-wing bias. Most of our media is owned by a handful of offshore billionaires with personal agendas.

More worrying is the staggering decline in independent, investigative journalism. It costs a lot to produce, so many publications facing an uncertain future can no longer fund it.

With nobody to hold the rich and powerful to account, or report on the issues that don't fit with the mainstream 'narrative', your help is needed.

You can help support free, independent journalism for as little as 50p. Every penny we collect from donations supports vital investigative journalism.